If you like the Kardashian style you should like their lingerie too. Their lingerie collection have some good pieces even though it seems a bit uneven style-wise.
If you hate the Kardashians… well then there's no point in reading further...hehe sorry I had too!
Oh, Primadonna my fellow co-blogger, was that your attempt at humor earlier? xD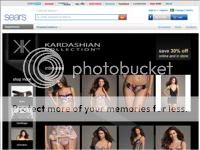 Kardashian Clothing & Style: Find Accessories, Clothes & Shoes at Sears
With strength,
Oden
Links
Kardashian Lingerie Kollection Campaign 2011
Kardashian sisters posing for lingerie ads | Girl & Women's Lifest..
The Kardashian Sisters Lingerie Shoot « Beautiful Celebrities –..
Kourtney, Khloe and Kim Kardashian Pose in Their New Lingerie Line for Sear..
Kardashian Kollection Lingerie Sold at Sears | Entmoney